Joseph Smith Jr.
Joseph Smith Jr.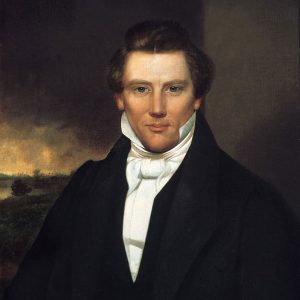 Masonic Dates
Born: December 23, 1805
Initated an Entered Apprentace: March 15, 1842
Passed to the degree of Fellowcraft: March 16, 1842
Raised to the Sublime Degree of Master Mason: March 16, 1842
Died: June 27, 1844
[The Joseph Smith family] was a Masonic family which lived by and practiced the estimable and admirable tenets of Freemasonry. The father, Joseph Smith, Sr., was a documented member in upstate New York. He was raised to the degree of Master Mason on May 7, 1818 in Ontario Lodge No. 23 of Canandaigua, New York. An older son, Hyrum Smith, was a member of Mount Moriah Lodge No. 112, Palmyra New York.
(Source: http://freemasonry.bcy.ca/history/lds/founders.html)
Significant Events
No items found